Originally from Windsor, Ontario and with life experience in rough-and-tumble Detroit, Dana Flaco Bassile, a rapper and hip hop recording artist in Ottawa known more widely as Flaco, spoke to us about his life, his work and how difficulties thrown his way have played a formative role in his music.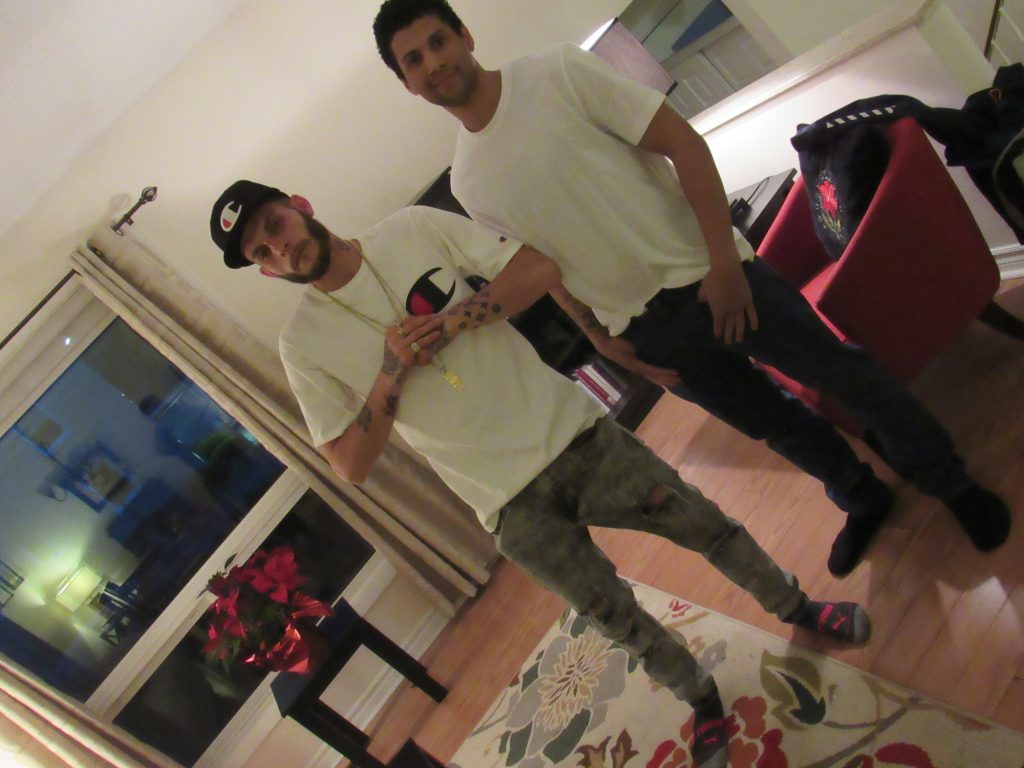 Appearing at first every bit like how one might imagine a man who has lived through rougher days, and particularly in one of the grittier urban areas in North America, Flaco spoke about travelling between Detroit and Windsor, as he had family on both sides, as well as moving to Ottawa eight years ago. When asked to compare Ottawa and Detroit, Flaco laughed.
"You already know from news articles, bro. It's all true. It's like a ghost town and the economy is sthit. Detroit is a rough place. It's way rougher than Ottawa," he said. Asked how his own life experience influenced his music, Flaco said: "Big time. Look, I'm from the streets. I got shot when I was just seventeen years old and I got stabbed more than once. Most of my homies are either dead or in jail," he said. "My music tells a story and most of my listeners are blown away. Everything I rap about are straight facts. Nothing's made up. I don't talk out of my ass" Flaco added.
"I have stories and stories to tell and that's why I rap. But I feel that I also have talent for this. In Ottawa, I've become known. But now's the time to try to get to a different level. I don't want to just stay local. I want to go international."
Flaco began producing music when he was about eighteen years old. He explained:
"I was in Detroit at the time and my family moved to the West Coast. So I packed up and left with them. About a month into moving to Victoria, BC, I was on a ferry and my brother came up to me and said, 'there's a guy over there selling albums, do you wanna check him out?' We walked over to him, talked with him and kind of picked his brain to try to see what he knew. We found out that what he would do was smart: he would go onto the ferries with a backpack, headphones and all of his albums. He would just sell his music on the spot. I told him that I wanted to start rapping and he was open to giving me his business card, since he had a record label, and told me to give him a shout. About a month later I did hit him up and that's how I first got ready to go." Flaco was signed when he was just nineteen years old.
At that time, he began working with West Coast beats and he explained that this has left a mark on his music. After relocating to Ottawa, in some ways it's this West Coast flavour that makes Flaco different and stand out in this part of the country.
But even over the course of just a decade, times have changed–especially how people listen to music. Flaco indicated that the best way for a novice musician to get his or her name out there is by having an active social media and internet presence, and circulating singles online. After a few difficult years and a hiatus from producing music, Flaco said that he got his "buzz back," recently putting out a mix tape called The Product, which is being sold at a clothing and accessories shop called Fly Boyz Boutique on Montreal Road, in Vanier.
"I'll be straight up bro. I named my mix tape The Product and this has to do with life on the streets and the hustle. But themes like this are only one side of me. I can be versatile, so for example I can do tracks that appeal to the ladies, tracks for the homies, for the streets. I've started to sing too," Flaco said, noting that he records his work at a home-based studio.
"When my mix tape came out, I was actually pushing more CDs out of province and out of country than here in Ottawa. I have fans all the way from the U.K. to Lebanon. I actually had a fifteen year old kid hit me up from Jerusalem and he bought my mix tape," said Flaco. "It's just crazy," he added, blowing cigarette smoke and seeming genuinely stunned that he has a CD floating around thousands of miles away, in the heart of the Holy Land.
Opportunities in Ottawa, however, are still limited and the music scene here is nowhere near as vibrant and dynamic as it is in Toronto–which Flaco referred to multiple times as T-dot. "Music wise the scene in Ottawa, especially when it comes to hip hop scene is not like how it should be," he said. But that hasn't stopped him from beginning work on new projects, including a joint initiative with local rapper Paragraph. Flaco also does live shows in the downtown, especially at the Bourbon Room. Whenever a big name comes to town, Flaco is often invited to open the show.
"Every so often I'll be walking around and random people who recognize me will holler: Yo, Flac, what's up?"–he said. Flaco added that there's a track on his mix tape entitled "That's Me," and this is especially popular in the Vanier area. "Two summers ago, I was walking in Vanier with a homie and we could hear a beat. I said to him: "Yo, sound's familiar?" That's when I realized that someone was playing my music. It feels good that people are listening and that my music is getting out there," he added.
Flaco told us that he has at least fifty unreleased tracks in his studio at the moment–so he has plenty of material to work with and lots to do. His mix tape has fourteen tracks, plus a bonus. As well, every now and then, he will also put out singles. At the moment, he's working on about six original beats.
So what mental space does Flaco have to be in to produce music? On the one hand, he said that it helps if he's had a good day. On the other hand, he said that music can also arise from darkness. "Sometimes it's good to write something off pain," Flaco said, as he lit another cigarette. "My mom passed away six years ago. To this day, I want to write a letter to her. I want it to be from the heart. I'm still searching for a way to go about that," Flaco added.
"I definitely lived a rough life, but I'm a family man now. I'm trying to change as a man and as an artist I am always working on getting better. I've got enough stories in my head and experiences I lived through to rap about it. I used to be in gangs and I've been through all that shit. Everything in my music I've witnessed and been around it. But as a man, at age 33, I'm looking at a different life."
But that won't stop Flaco from progressing in his music career. In addition to a couple of projects on the go, he's also looking into producing his first album. As well, as music consumer patterns change and only the real diehards buy mix tapes, it's all about producing singles, especially when it's combined with a video and uploaded to platforms such as YouTube. Just from the energy and enthusiasm he displayed in our interview, it's safe to say that Flaco has many more stories to tell through his music, even as he also settles into his role as a spouse and father.