What began as a hobby five years ago turned into a vehicle for sharing a personal story of addiction, recovery and faith — one that speaks to many who experience the turbulence of substance abuse. When Blake Alexander, a 29 year old Ottawa-based rap artist, first started developing his skills, he was still in active addiction. His first songs lacked the thematic depth and substance that he strives for today, focusing instead only on street life. "Although I was putting in the work of learning how to write and compose beats, I really didn't have much to say," Alexander explains.
Originally from Ottawa's east-end, at the time, Alexander was living in Toronto. When he attended parties, he would often rap over the music that was playing. At one of these parties, he was encouraged to write down what he had rapped — and so he did, recording it in permanent market on his apartment door. The next morning, he sifted through what the lyrics that he found good, dividing them from those that weren't, and began the process of honing his skills. Yet Alexander remembers this period in his life as being one when he was drained, lost and confused. Alexander had moved away from Ottawa as a way to get past active addiction.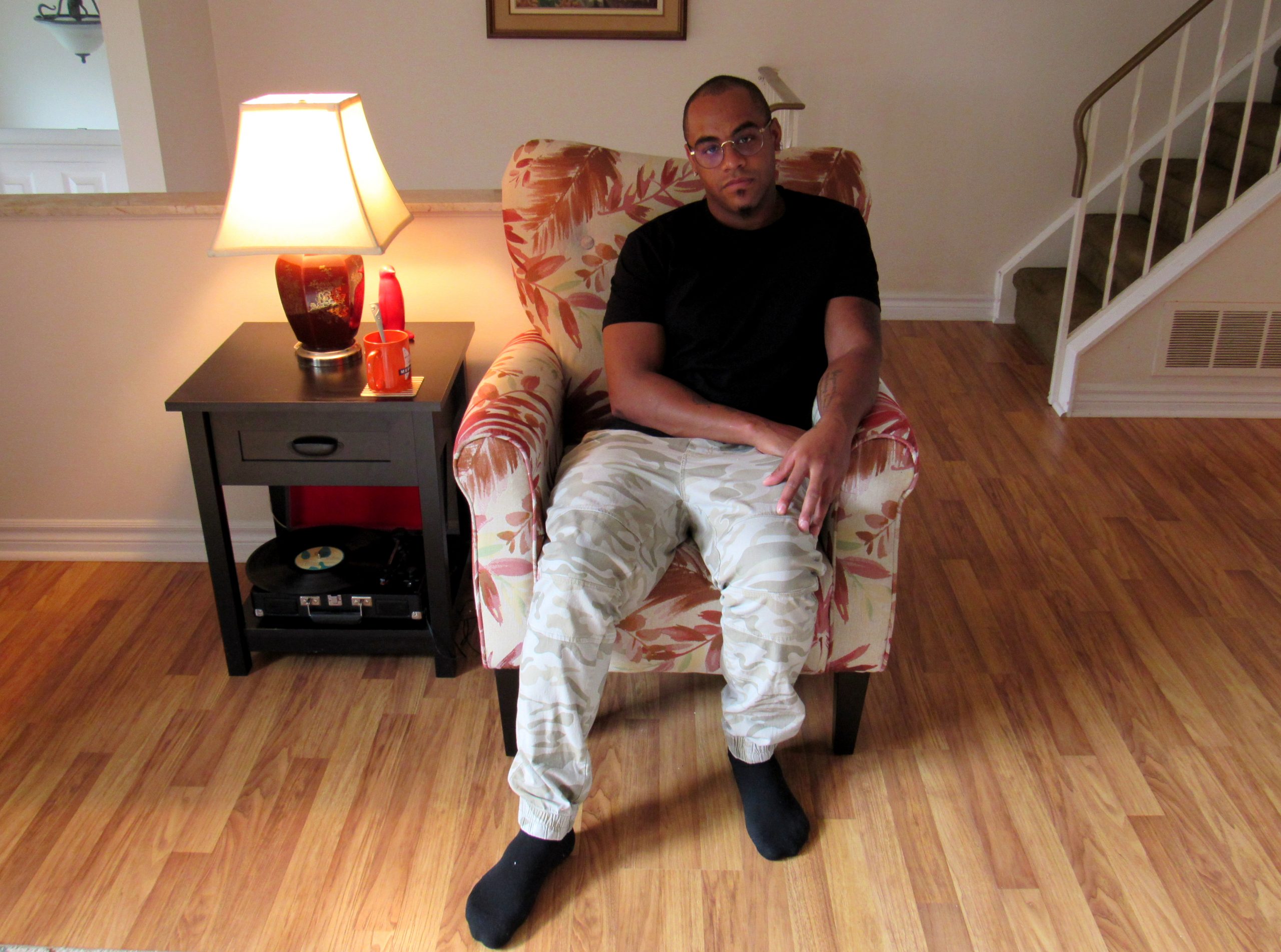 "I thought to myself that if I just left the city, I could start fresh somewhere else," he said, adding that he lived in Toronto for over four years and spent that time in active addiction. When he returned to Ottawa, Alexander began addressing his addiction head on, and realized that he had to set music aside, focusing fully on recovery.
"I put my music on pause and I didn't write for the first six months. I had to focus on myself, and I knew how important this focus was, as it wasn't the first time I tried to get sober. I had been struggling with addiction since I was fourteen, and the first time I attended a residential treatment centre was at age fifteen. The Jericho Road treatment centre here in Ottawa was number eleven for me," Alexander explained.
Seeing that he had struggled with recovery on ten earlier occasions and had fallen back into addiction each time, I wondered what made Jericho Road different, at least in Blake Alexander's experience.
"Almost immediately, I noticed a difference in their approach. The faith aspect of Jericho Road was present, but it wasn't pushed on us. I had been to other treatment centres where it was pushed on the residents. Jericho Road gave me the space and time to grow into my faith. I always believed on some level, but during years of active addiction, I lost that connection," Alexander noted.
While in treatment, Alexander wasn't making music, but he was still listening to it. "I knew that eventually I would get back to it, but I really had to work on myself. I didn't know what was going to happen to me after Jericho — especially in terms of work. But that's where I had to trust in the Lord and know that he would not lead me down a path that I couldn't handle. At the time, I was listening to Chance the Rapper and Kanye West. Chance inspired me to get back into music through his album entitled Coloring Book. This is a faith-based album that Chance created while in treatment. After a six month break, I thought to myself that maybe it was time to dabble in music once again. I was sober, my mind was clear and I had something to say now," Alexander shared.
Blake Alexander began making music about recovery and faith in God. But he was having doubts as well. "Who's even going to listen to this," he asked himself. But then Kanye West dropped Jesus is King, and Alexander interpreted this as a sign.
"I had to ask myself: why am I making music? My goal isn't fame. I want to express and share the potential for real change that we all have. I want to express strength, hope and faith through music, and help others recover too," he explained.
So, who's Blake Alexander's main target listener? "The person who is still struggling — be it with addiction, relationships or faith, or if they've walked off a path," he answered without any hesitation. One listener wrote to him recently and shared that he had just lost his mother, was about to lose everything and was considering suicide. But hearing Alexander's music helped this listener begin changing his perspective.
I asked Alexander how he measures success. He said that he came from a place of having nothing, yet today he has recovery, a job, a home and friends, and his family is back in his life too. Just having all of these things and seeing how far he has come is a sign of success. "I need to remember to be grateful for all of this. I tell myself: hey, remember that you were homeless not too long ago," he added.
It has been a long and winding road for Alexander. He experienced homelessness on and off for years — in Toronto, Hamilton and Burlington. He incorporates some of these memories into his music. "Most difficult for me was not knowing when my next meal was going to come, and also not knowing where I was going to sleep that night. Just not knowing is the worst. Even though I was homeless, I know I was still blessed and that God was still looking after me," he said.
While homeless, Alexander went into active addiction in the winter times and spent the summers in treatment — even though many experiencing addiction do it the other way around.
Alexander said he thought that despite all of these hardships, he was never abandoned by God. If that's the case, where was God in all of this — when he experienced such an acute level of suffering?
"He was there with me. God doesn't take the suffering away. Instead he will walk with us through it all. I've asked myself: why would He let me go through all of this pain, suffering and struggle? I now believe that it was to build that character  — build who I am now. Today, I can share my experience with those who are still struggling, and let them know that it is possible," he shared.
"Although I have many conversations throughout the day with Christians and non-Christians alike, I like to spend a lot of time on my own, going for drives. I use this as an opportunity to reflect and talk to God. I still have to work on my ego and on my pride. But I am at a point that I can recognize all of that," Alexander said.
Rap has become his platform to talk about personal struggles, the journey of faith, as well as recovery and relationships. But can Alexander's music still appeal to people who don't share his religious faith?
"I think the strength of the story can still resonate with them," he said. His first album written at Jericho Road was particularly heavy on Christian themes and on Jesus specifically. But that's where he was at that time. "Since then, I make sure that God is involved in my music, there's faith involved, alongside themes and messages that would appeal to someone who didn't believe in God — things like strength and courage," he added.
Blake Alexander's second album, currently in the works, is entitled From the Concrete Grew a Rose.  He recently released a single off that album and his main platforms are Spotify, YouTube and Apple Music. Currently on Spotify, he has over 3,000 followers and some of his YouTube videos have had over ten thousand views. He has built a studio in his apartment and went to school for audio and sound engineering. He also records at well-known studios in Ottawa like The Cave and works with professionals in the field of mixing and mastering. "I'm never looking for a big, fancy studio. I'm looking for the engineer who has the experience," he said, and added that for him, the sound engineer at The Cave has been a good match.
Alexander continues to develop his skills and to grow his network — both of which requires plenty of ambition. He's reached out to local radios and secured some exposure with them in recent months. In the coming weeks and months, he plans to stay driven and to keep producing music that points his listeners to a place of hope and renewal.