A Company of Fools is tackling Shakespeare's most iconic play! Opening this July, a Company of Fools is presenting Hamlet on an eight-week tour of over forty parks across Ottawa and beyond. Their fast-paced 90-minute rendition of the Bard's greatest tragedy will feature disemboweled puppets, a sword fight to the death, live underscoring, and 5 actors taking on 15 different roles.
Join the Fools this summer as they delve into the depths of the human experience and have a few laughs along the way. Whether you're a Shakespeare nerd or this is your first foray with the Bard since high school, their foolish take on Hamlet has something for everyone.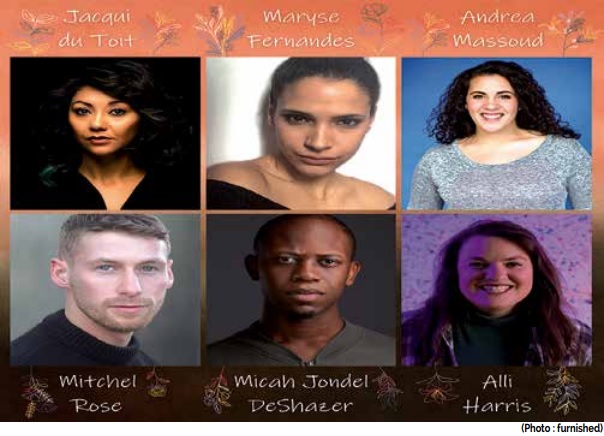 When and Where
In Vanier at the Beechwood Cemetery on Saturday July 22nd and Nault Park on Wednesday July 26th. Both performance start at 7 p.m. They are performing in over 40 parks across Ottawa and beyond.
Price
Pay What You Can (PWYC), with a suggested donation of $20 per person. Bring a lawn chair or blanket, bug spray, picnic, and your sense of humour. Pass-the-hat donations are collected at the end of the performance and can be submitted in the form of cash, credit card, cheque, or bars of gold.
With Hamlet returning home to attend her father's funeral, Hamlet discovers that another ceremony has already taken place: the marriage of her mother to her uncle. That's right, her dead father's brother. When Hamlet is visited by her father's ghost demanding that she avenge his murder, Hamlet begins to wonder – is it she who has gone mad or everyone around her? The play takes place in a fairytale-inspired Elsinor, an extravagant kingdom ruled by the freshly crowned King Claudius. But don't let its decadent appearance fool you, there's something rotten in this fairytale wonderland. Re-imagined to feature a female Hamlet, her feigned madness is a rejection of feminine expectations and an attempt to free herself from a fake world. This is the story of a quest for justice that exposes what happens when a young woman challenges authority.
Team
Ottawa's Maryse Fernandes stars as Hamlet and reimagines Shakespeare's iconic protagonist as a 'mad young woman'. Micah Jondel DeShazer, who played Ariel and Caliban in last summer's production of The Tempest, stars alongside Maryse as the diabolical King Claudius. Rounding out the team is Ottawa's Jacqui Du Toit, a storyteller and founder of The Origin Arts Centre, as Queen Gertrude. Fools' veteran Mitch Rose plays both father and son, Polonius and Laertes; and Andrea Massoud lends her talents to the roles of Ophelia, Rosencrantz & Guildenstern, and Horatio. a Company of Fools' Artistic Director Nicholas Leno and resident designer Vanessa Imeson spearhead the production's creative team. Fools fans will remember Nicholas and Vanessa's carnivalesque take on Romeo+Juliet in 2019. The Fools believe that it doesn't matter where you live, how much you make, or how old you are: theatre should be accessible to everyone! All of there performances are for PWYC donations, family friendly, and their touring model means they bring the theatre right to your backyard. They help first-time theatregoers discover their love for live performance through their foolish approach to storytelling!