When I arrived at the unassuming redbrick house in Westboro — untouched by cookie-cutter gentrification — David Dino White was drinking coffee on the side porch, at ease on this mild November afternoon. The sunshine, the embers of late autumn, lit up the last of the leaves clinging to trees. Music emanated from inside the house. That's when I realized that the subject of this interview wasn't the only musician living here, but turned out to be one in a small community of musicians sharing a home and supporting each other's work in Ottawa's west-end.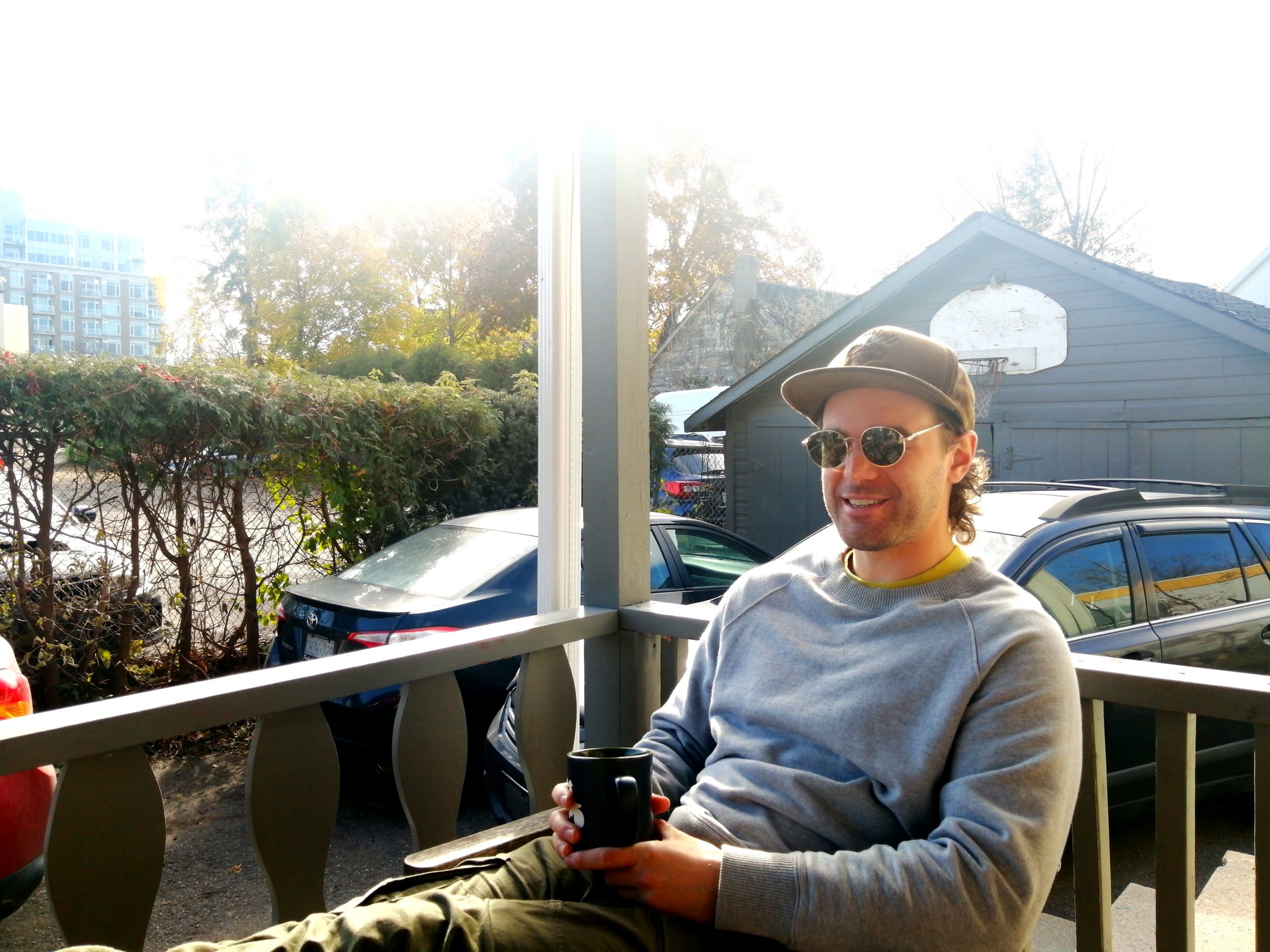 Originally from North Bay, David Dino White settled in Ottawa earlier this year, bringing his music with him. I had to ask the question of cover music versus original content upfront, and while I half expected to hear at least a few disparaging remarks about cover as some kind of necessary evil, Dino (as he is known in the music community) shared a different perspective. As someone who is entirely self-taught, he felt that learning other people's work could be a great way to see how a song is structured and to learn how to write music. "I do think of myself as just an original artist. Yet I know a ton of covers, not only because I enjoy learning them, but because it's a great way to get people to visit your YouTube page or to come check you out at a bar. I'll play three sets of covers and then throw in an original. A cover can serve as a  segway to original work," he shared. One of the more striking acoustic covers on Dino's YouTube page from a few years ago is his rendition of "You're the One that I Want" from Grease, performed with indie folk singer Annie Sumi — both musicians from North Bay who have performed widely throughout Ontario and beyond. Dino seems to know this province like the palm of his hand, or close to it. A lively original music video from spring 2021 with the tongue-in-cheek title Onterrible is testimony to both his travels and to Ontario's many faces.
"One of the things about music and art in general that I've always enjoyed is that you're never maxed out. There's never a point where you know everything. Music is so interpretive. Although cover may not be an important part of the vocabulary for every musician, what's critical is passion. Whether you're doing covers or originals, a more important consideration is whether you're enjoying it. Don't learn a cover because you think people are going to come to your show. Learn a cover because you love that song and are curious about it, or focus on originals because you feel that you have something to say and you need to express the ideas in your head. And when it comes to originals this is even true if your song isn't 'radio friendly' or accessible. If it's unique to you and you approach it with passion, time and time again artists are proving that this works," Dino shared. He added that he's very fond of Billie Eilish — an artist who is completely mainstream. Yet a lot of her work shows that her main consideration was not becoming 'big,' but rather doing what she always wanted to do.
I asked about preferred genres, but it became clear quickly that Dino's work is eclectic and that he is comfortable writing music that transcends boundaries. "As a listener, I enjoy a broader spectrum of music than many people might. "Progressive metal is my guilty pleasure," he said with a grin. "But I don't think there's anything wrong with liking music that you like," he added. "I'll often come home in the evening and while I'm making dinner, I love to listen to Canadiana and folk. And when I'm hanging with my buddies and we're chatting, I love to put on a jazz instrumental playlist. I'm even a sucker for children's songs! Just the other day, we had a few friends over and we were all in the living room jamming 'Down by the Bay' as a big happy household," Dino said as his eyes lit up. At the moment, Dino is going through a big Billy Joel phase — something that is fuelled by having an upright piano in the house.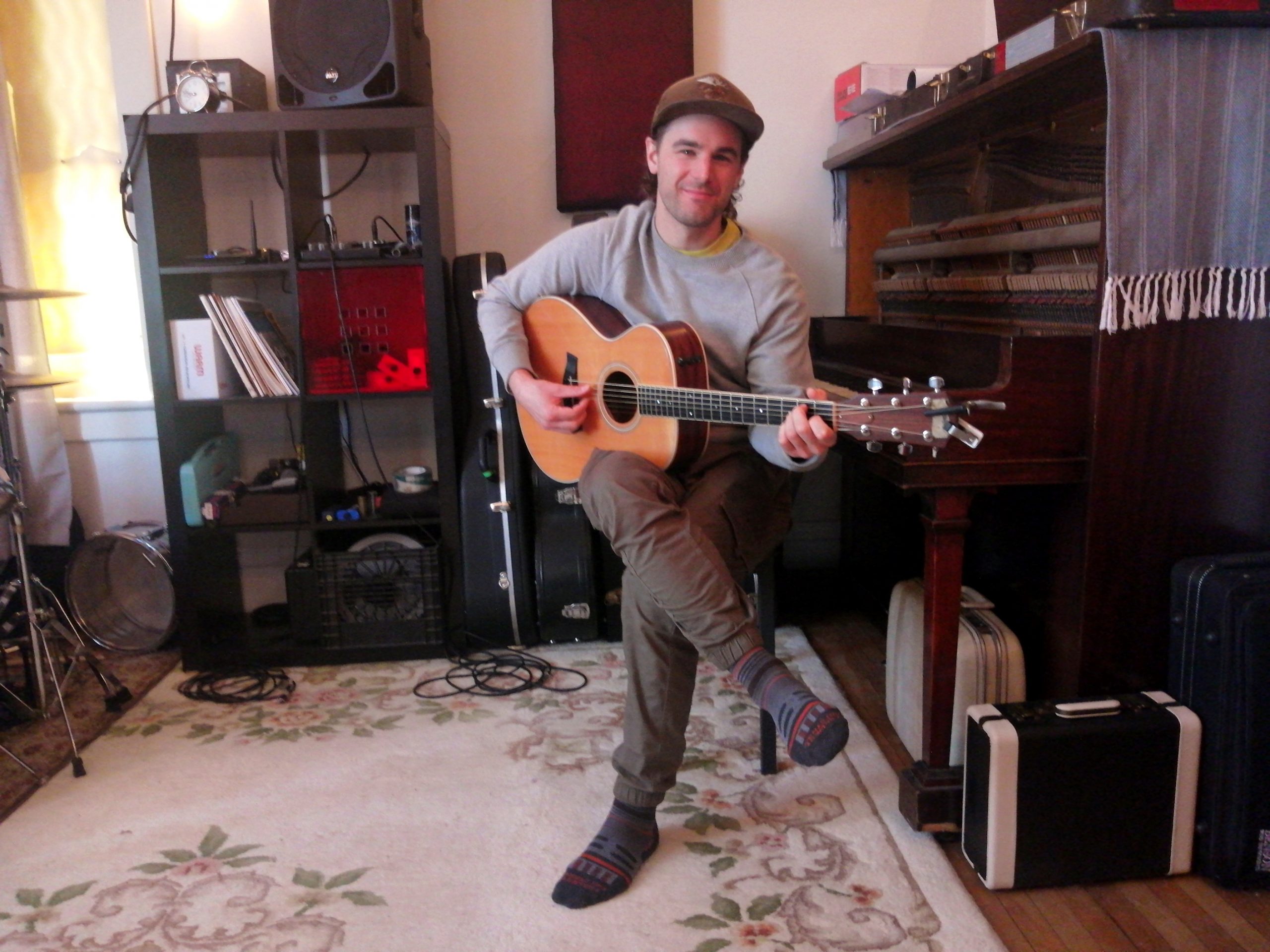 As we moved into the house, Dino's roommates greeted us in the kitchen. "We're all from North Bay and when the pandemic hit, everyone kind of dispersed. I was in Vancouver for a period of time and they were in Montreal. And then at one point, we all ended up back at home, talking about what we were going to do. I've lived in Toronto before as well, but I felt that intensity of city life can be draining. We all had a couple of connections in Ottawa to get us started and then not too long ago we found this house, which has been a dream," he shared.
I decided to press Dino a little more on genre, specifically on how he would characterize his music. Is it Canadiana or alternative folk or a combination of styles? "My earlier music borders on progressive Canadiana in that it's very singer/songwriter at its core. I write everything on my acoustic. My first album, Alone Together, was lush with piano and slide guitar. I hired this incredible jazz drummer from North Bay named Rob Joanisse to play on that first album.Then the next one I did included Andrew Sowka who I live with now. The third one that I'm working on is an evolution of my previous work. It's a more rock-driven sound, but it still has many experimental elements, like time changes. But it's still very lyrically-driven. The most defining factor, and one truly inspired by Billy Joel, is that I found a saxophone player. So this entire new album is full of horn work that adds character, life and density to these complex melodies," Dino explained.
"I feel that in my new album I've found a more refined way of presenting the melodic idea, and then a variation of it that the listener may not have considered. I think it's really a listener's album and we worked very hard on it," he added.
As I was listening to Dino, a question formed in my head that I knew I ought not forget. Since his music is lyrically-driven, I had to know a little more about his process of developing and writing lyrics.
"Any time I hear something that inspires me or if I see something that piques my interest, I write it down. I never sit down to write a song just seeking inspiration then and there. It's already on paper in front me and it's a matter of seeing if it fits well, and if it feels right to explore that idea further," he said.
Where's the boundary between being a poet versus a musician, and is there really such a boundary at all? It's an amorphous question, but it seemed to me that Dino very much has poetic instincts. For many years, one of Dino's inspirations has been Streetlight Manifesto, a band from New Jersey. What stands out the most is the quality of their lyrics. "It's so cool to not only hear these unique instrumental ideas, but to see them supported with real messages — real things that are happening in life that are worth thinking about and talking about, and maybe these are things that we don't consider often. If you're a writer and you want to get into music, it really has to come from within. I don't know why I want to sing about the things I do, but I know that I want to. It's more than a want; it's a need. I want to have purpose in my writing," he reflected.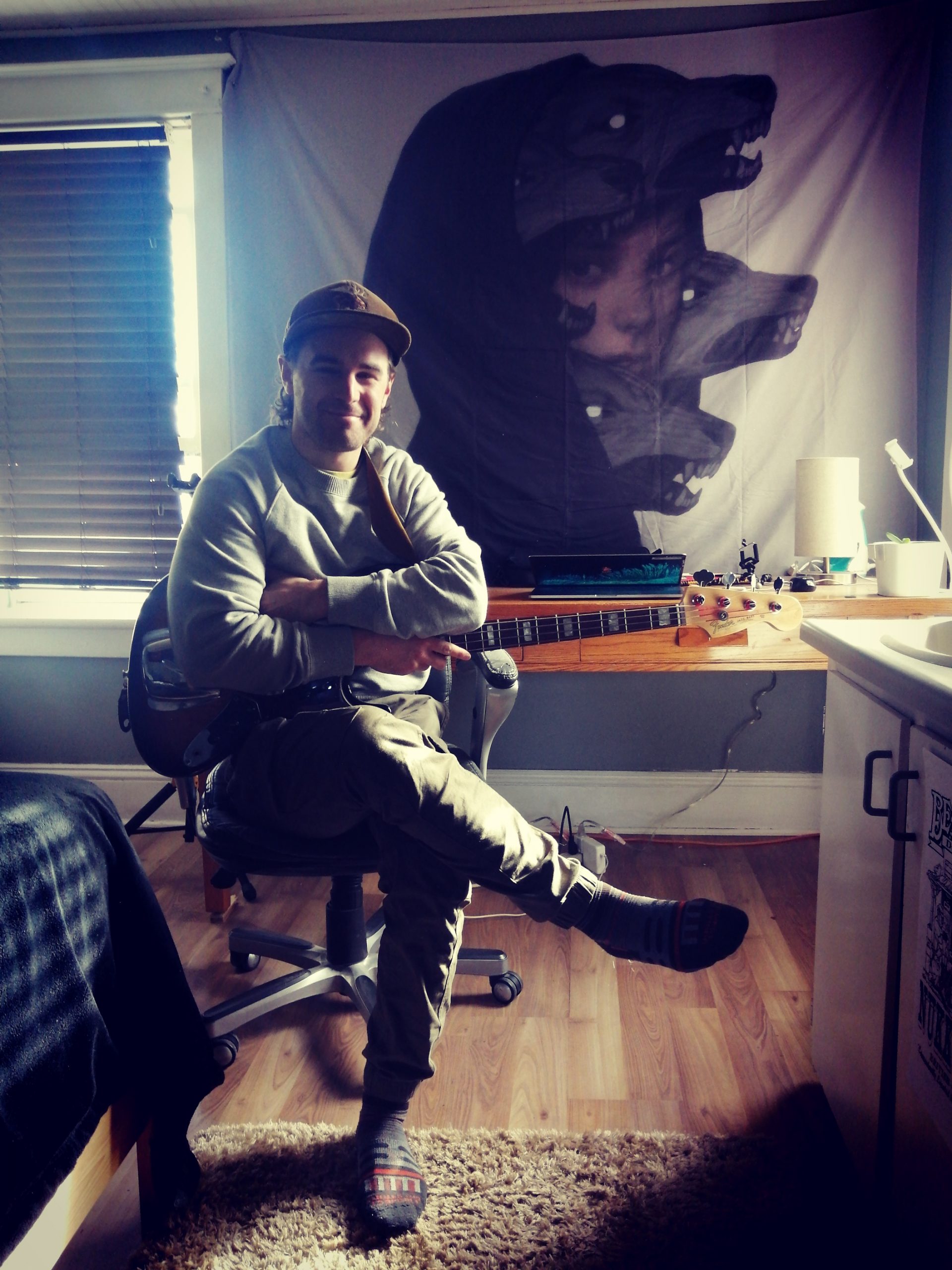 "I have these ideas, things that have spoken to me. When I revisit them and when they feel really true and honest, then it's easy to finish the song," Dino added, noting that writing music is a self-reflective exercise. "I think the concept that transcends all ideas is that whatever you feel internally is always valid. If you are feeling off, then something in your reality is off, and you need to listen to yourself and be honest with yourself, and not be ashamed or shy of being an emotional human being."
I was curious to discover what sort of feedback Dino has received on his music from listeners. He shared that sometimes they will interpret things completely differently than how he had intended them. "That's a real message for anyone trying to write a song in the first place. I'm always looking for ways to allow the listener to fill in a blank or two, and decide for themselves what I'm really getting at. I feel that people who enjoy my music and connect with it are almost immediately my friends. It feels like they're people I've known my whole life, because I'm being so transparent," he said.
As I listened and reflected on what Dino was telling me, his comment on transparency is what resonated with me the most. He approached my questions with what I can only describe as genuine, youthful openness and also a sense of being at peace with himself, his music and his life.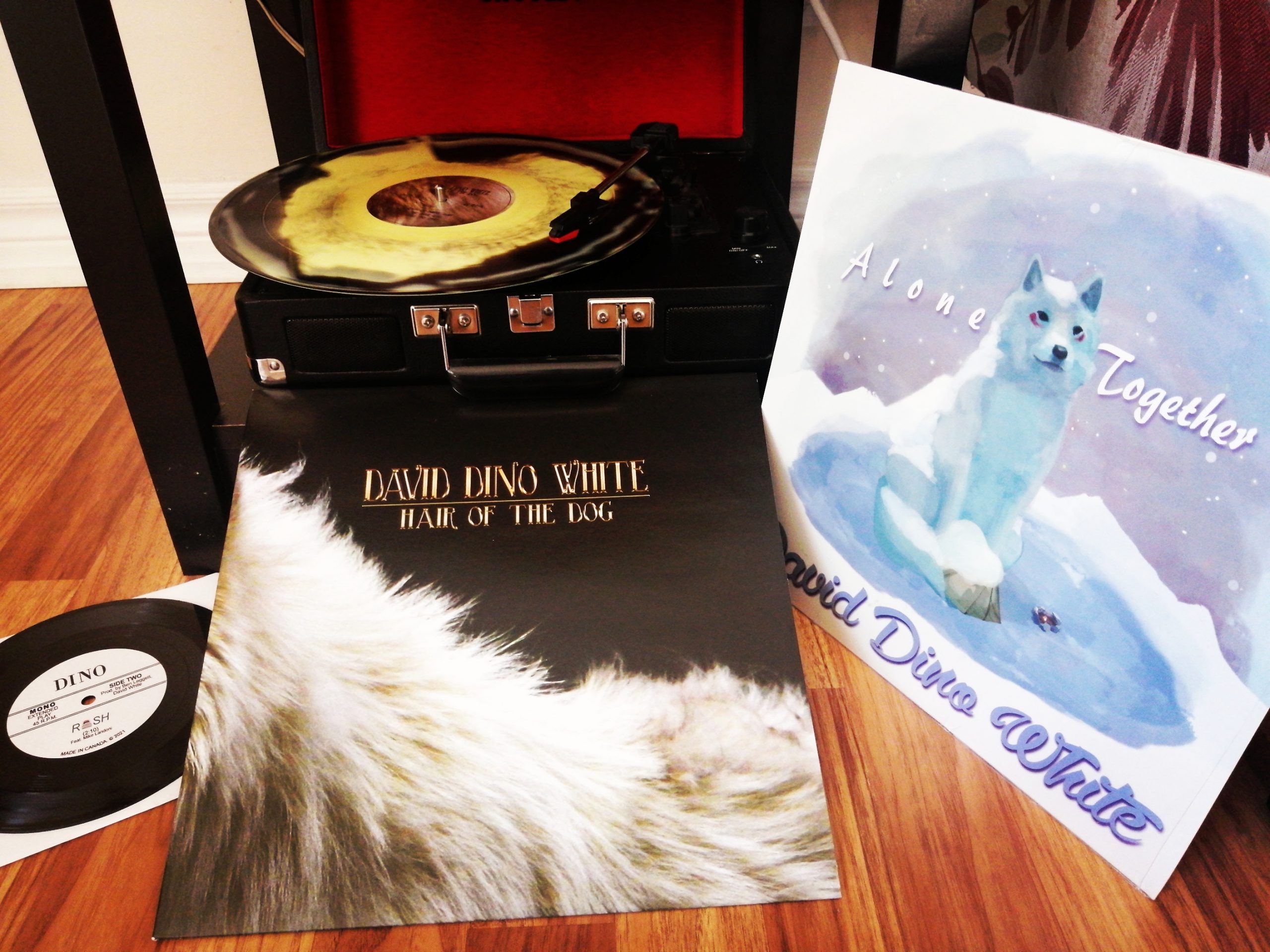 Sharing so much through music that is personal, including private thoughts, introduces a level of vulnerability. As we neared the end of our conversation, I had to ask Dino about that too.  "I think the goal is simply practising being honest and being open, and then having faith that the people who want to get to know you and go on this journey with you, will return the favour by being open and honest with you."
The pandemic continues to linger over us, even as society is cautiously returning to life after this peculiar 18 months. I wondered how this historic period impacted Dino, his music and his worldview. After a moment of quiet reflection, Dino shared: "I feel that the pandemic has shifted a lot of other people's focus more towards things I've already been on for a long time. I don't mean to say that I'm ahead, but I've always been very much about feeling what I need to feel and saying what I need to say, or spending time with who I need to spend time with. The pandemic has caused many people who were caught up in the daily grind to stop and consider that maybe there are more important things than just getting the car and the house, the fat pay cheque and the nice couches. Maybe it's important to take the time to share the deeper parts of ourselves with each other. I still write about the same things now as I did before the pandemic. If anything, maybe they are more relevant now than ever," he said.
At the end of our conversation, Dino shared with me some of his vinyl albums. As I began writing up this piece, what he had told me on that sun-drenched porch — and then inside a house that had more character than most I've seen — became even clearer. The record player spun in the background and his sound and message filled my living room. At times folk with elements of blues, and always playful — even when it comes with an edge — Dino's songs show that really reflective music can't be neatly curtailed by any boundary.
C. Adam / Ottawa Reflections