On October 21st, 2023, the St. Joe's Supper Table, a community meal programme and food bank in Sandy Hill, held its fall harvest-themed fundraising dinner at St. Joseph's Parish Hall. After expenses, the Supper Table raised $7,000 for the meal service and food bank. Over 150 people were in attendance, including a representative of the Ottawa Food Bank, one of the Supper Table's major supporters.
This evening, however, focused on a unique Catholic/Muslim partnership. St. Joseph's parishioners and friends from the broader Ottawa community came together to thank the Masood family and the Islam Care Centre for their longstanding support of the St. Joe's Supper Table. Qamar Masood, who passed away this year, had been providing the parish programme with halal meals for nearly two decades. In total, they provided some 200 meals per month. His son Zafar and his family joined parishioners in the Parish Hall for the Fall Harvest Dinner. Father Robert Laroche offered a blessing based around the theme of peace, while Zafar gave a Muslim blessing in Arabic. St. Joe's Supper Table's Manager, Kathleen Strader, gifted Zafar an original painting created by Ferris, a guest of the St. Joe's Supper Table, as a token of appreciation, along with a bouquet of flowers.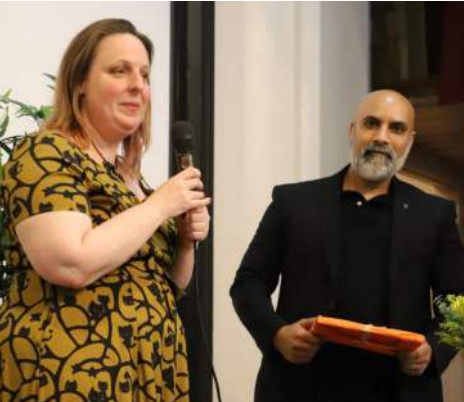 The four-course dinner was prepared by the young and talented St. Joe's chef, Tim Klaassen, and the meals were served by a busy team of dedicated volunteers.
The St. Joe's Supper Table, located at 151 Laurier Avenue East, operates the only food bank service in Sandy Hill, as well as serves dinner Tuesday to Friday from 5 pm, and offers coffee and sandwiches in the mornings. The Supper Table is always looking for volunteers and for community partners. For more information, contact Kathleen by email at: suppertable@st-josephs.ca.