Originally from Ireland, twenty-six year old musician Matthew Oliver relocated to Canada right on the threshold of the pandemic – on March 5th, 2020, quite literally one week before everything got locked down. He was born in Dublin, but came-of-age in a rural region called Meath. The desire to travel, rather than establish permanent roots in one specific place, is as much a part of Oliver's outlook and character as is his music. When asked if he feels at home now in Ottawa, he was quick to note that he's never been fully comfortable in any one locale – but feels best when he has the capacity to move, change environments and meet new people  along the way.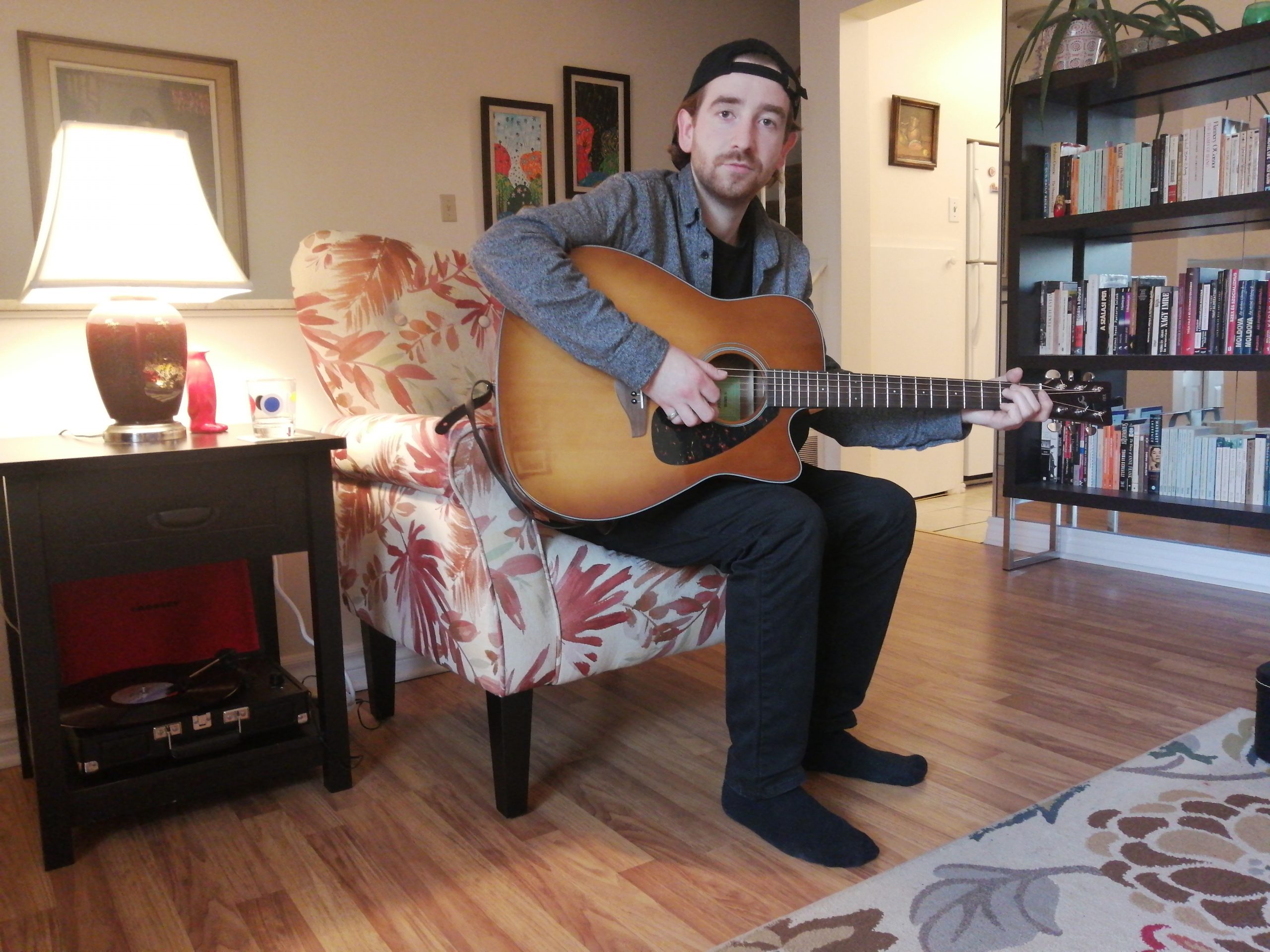 Music has always been a part of Matthew Oliver's life. He started gigging in Dublin, even while he had to focus on establishing a livelihood as a bartender. And it was in one of those bars that he met a Canadian expat, with whom he eventually moved to Ottawa. "When you move somewhere new, you don't have any friends, but music is a great way to meet people and build connections," he observed. The pandemic didn't make it easier to build those relationships, but it did give Oliver time and space to write new songs. "In that first year of Covid, I think I was writing better. Seclusion forces you to face your own emotions," Oliver shared.
I was interested to learn to what degree the pandemic also forced Oliver to see the world through a different lens. "Coming to Canada is a new world to me. But now with Covid, the world is a new world once again for everyone," he said. Music is one way to reflect on, and work through the seismic changes that we have all experienced in the last two years of the pandemic. But for Matthew Oliver, music has also served as a way to process and recover from the acutely difficult experiences of his childhood. As a child, he saw the impact of alcoholism firsthand.
"I was always a very emotional person and I probably should have begun writing music before the age of seventeen. It would have helped. But I think I was very angry when I was seventeen and the inspiration came then. When you're the child of an alcoholic, you see a lot of things well before you're supposed to see them. You mature in certain ways very quickly. And then in other ways, you don't. I was inspired to write about what I saw, the adult problems — even though I was likely too immature process this," he shared.
Engaging with others and observing also serves as a source for writing music. Sometimes Oliver would write a song on what he observed others experiencing and then four or five years later, when he too experienced something similar as an adult, he would gain a different understanding of what he had portrayed in his music years earlier.
Oliver grew up listening to seventies rock and eighties pop. Michael Jackson and Prince were two of his 'go-to" musicians growing up, and Led Zeppelin and The Rolling Stones became inspirations too. Oliver's immersion in music was ultimately an immersion in verse — at a young age he was drawn to poetry, showing in a real way how porous the boundary can be between these forms of artistic expression. Few would doubt that some of the greatest songwriters (and Bob Dylan came up in this interview) were fundamentally poets. Oliver was fortunate in that he had the opportunity to study both poetry and philosophy in school.
"Before I was writing, I was thinking like a writer might think. I was looking at things at that deeper level, searching for a second meaning. And of course it helped that there have been so many great Irish poets. Patrick Kavanagh was my favourite Irish poet, and probably because he was so fecking depressed. You could see it and feel it so much in his words. I love his style of writing. The song that was originally one of his poems, On Raglan Road. It's such vivid verse and it paints this picture of walking through Dublin as you read it. It's also kind of heartbreaking," Oliver shares.
One of Oliver's favourite non-Irish authors is Sylvia Plath and again, it's the darkness present in much of her work that drew him in. That's the same reason he was intrigued by the band Nirvana too.
"Deeper emotion sometimes expresses itself in the darker stuff. I would say that it's in the really dark and in the really happy — that's where the strong emotion lies," Oliver noted.
I was interested to learn about the impact of working in the hospitality industry on one's capacity to write music. I came into this interview with the preconceived notion that long, strenuous and life-draining hours in hospitality would, to put it very mildly, put a damper on the creative drive — or at least leave no energy for one to pursue ventures like songwriting. Matthew Oliver came with a different perspective.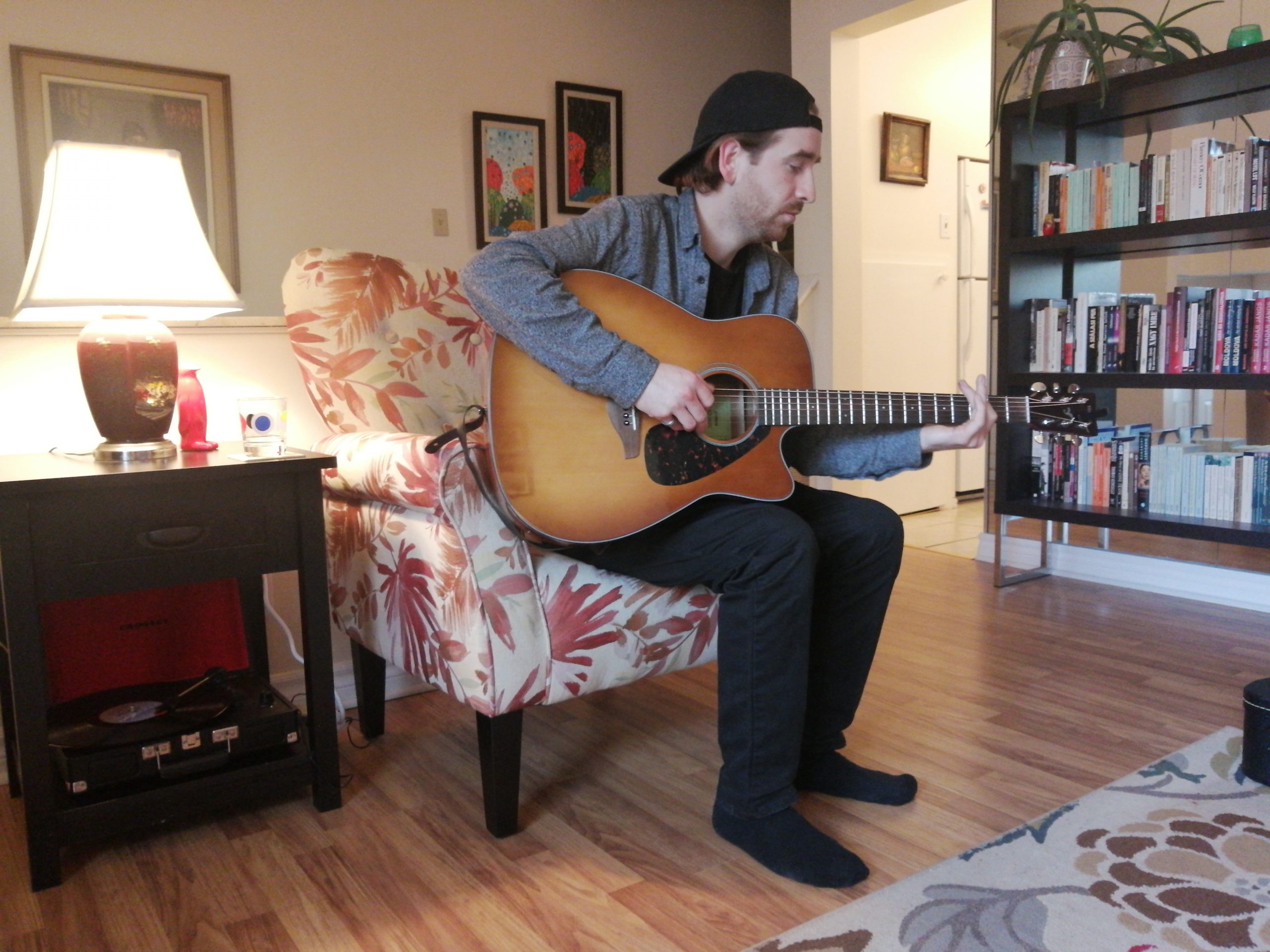 "If anything, being a barman and working in hospitality helped my songwriting, because I'm just meeting more people and seeing more situations. I have the opportunity to get surprised by things. When you're a bartender in Dublin's Temple Bar, that's a busy area. You see a lot of trouble and you deal with a lot of trouble. If anything, that experience fed my writing. If I had to do gigs, then yes — the time management would be difficult. But writing is easy for me. It's practicing for a performance that takes time," Oliver shared.
Oliver has had the chance to test out the busking scene in Ottawa. Initially, he was quite shy — partly because he didn't know the area. "What if I'm acting Irish and they find me weird?" Oliver wondered to himself before busking. "I'm putting myself in the street to perform in front of people I know nothing about as a people. That was nerve-racking. But then quite quickly I began to see how polite and lovely Canadians are. And growing up in Ireland, I lived in poorer areas. I dealt with violence and saw the impact of poverty. So that didn't faze me," he added. Oliver also noted that one of the benefits of Ottawa when it comes to busking is the weather — and reading that, I am sure many of our readers will raise an eyebrow. But in Ireland, busking includes a perpetual battle with the rain and packing everything up before it gets destroyed.
"I don't think that you need to be an exceptionally self-confident person to busk. But you do need to be confident in what you're playing. You have to be comfortable in your own skin to stand there and sing your songs. A lot of what I was singing was original. And I noticed that people preferred that to me singing AC/DC or something," he said.
I wondered if it's common to receive feedback from passers-by while busking. Matthew Oliver said he's received loads of it. When he does covers, he often gets compliments on his voice. But during the pandemic, he would often receive positive feedback for simply being there — trying to get on with life and play. "They were simply happy that I was playing, without even worrying about what I was playing," Oliver observed.
How does one compare busking to playing on a Saturday night at the Royal Oak? Oliver didn't miss a beat in answering my question.
"I'm a lot less nervous when I'm busking. You can play what you want when you're on the streets. When you're in the pub and you've got a crowd, they want to hear covers. They might enjoy your originals, but you're not there to play those. They want to hear your version of a song that they recognize. Busking also offers the freedom of being able to rest and stop, and that people can come over to talk with me. You might be able to do that in a pub, but in the pandemic nobody is allowed to stand-up and come over and talk to you, and of course everyone is masked. On the street, I can really have a conversation with people, including about my originals," Oliver shared.
One of Matthew Oliver's most striking covers is of Tina Turner's The Best. He offers an evocative rendition of the 1989 original while sitting along the Rideau Canada in September 2021. Among Oliver's most recent originals is the song It Hurts. The piece is performed on a balcony in Centretown overlooking high-rises and Dominion-Chalmers United Church. It's a reflection on the degradation of the natural environment by human activity and indulgent lifestyles.
This year, Oliver's music will move more in the direction of scheduled gigs. That also means doing more covers and staying passionate about what he's performing. A keen audience knows when the musician feels the song he's playing — whether it's a cover or an original. And when the musician is immersed in his music, he connects with his audience in particularly meaningful ways.